Custom Closet Systems
---
Call for Custom Closet Installation
Options Quote: 518-373-8393
We Offer All Organized Living Products:
---
freedomRail
freedomRail is the perfect combination of strength, ease and versatility to save you time, money and stress. freedomRail puts you in control! Organized Living freedomRail is an award-winning home organization system that can be customized for every area of your home. The heart of this organization system is its ability to adjust- and readjust – to suit you and your family's ever-changing needs.
---
Classica
Who said function couldn't be beautiful? Organized Living Classica combines durability with timeless beauty to bring you a storage solution that is as visually stunning as it is strong. By combining form and function with extraordinary design, Organized Living Classica closets and shelving can transform any room into an inspiring and gorgeous space.
---
Garage Solutions
The Organized Living freedomRail Garage system is perfect for doubling your storage space and creating a highly functional and organized work space. Use Organized Living Activity Organizers with any freedomRail Garage set up to create more storage space for all your equipment, tools and supplies. Even the smallest hand tools, sports balls and gardening tools will finally have a storage space and make your life simpler by being easy to find.
---
Ventilated Shelving
Organized Living Lifetime Ventilated is a solutions-focused shelving system that can serve an integral part of any area of your home that demands a lifetime of durability and strength at a great price. Unmatched in strength, it's the most practical and dependable solution for areas of your home that play an important role in your life each day.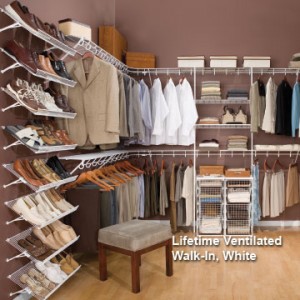 Contact us about Custom Closet Systems at 518-373-8393 or by email at shop@cliftonparkglass.com